Good Game Guys!
Y GOD there carrying me actually. Fairly obvious Vig game although Initially I wasn't going to shoot.
Sorry to whoever was playing Il Palazzo, I just missed loads of content from you until somebody pointed it out and I had to reread them like 3 times. If we are putting amusing screenshots in: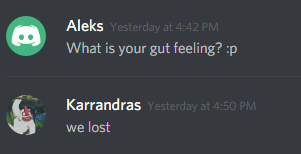 That was during night 2 I think. Actually have no idea how we won, especially how I played pretty poorly outside of using my role.